When you store your clothes it's because you want to get them out later and use them, so here's the 5 rules for clothes storage to keep them looking great.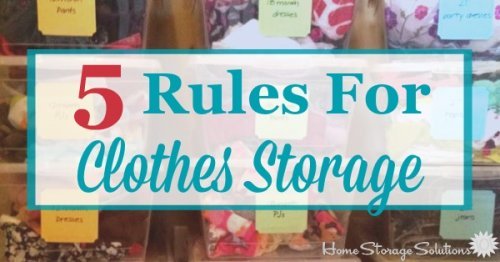 Have you ever stored clothing, just to pull it out later and have strange yellow stains on it, or notice the elastic is shot, or that pests got into them and now everything has little holes?
If so you know how frustrating and disappointing that can be. But if you follow the 5 rules listed below when storing clothes for yourself, or for your younger kids to wear, when you pull them back out again for later use they'll still look great, and won't have any musty or moth ball like smells either.

Rule 1. Clean Clothes Before Storing
One of the most important rules for clothes storage is to make sure you clean your clothes properly before storing them, by either washing or dry cleaning them.
They might not look dirty, visually, but with time any dirt, sweat or soil on the clothing will cause set in stains, and these dirty areas are often the cause of the yellow looking stains you find when you get out stored clothes (especially prevalent with baby clothes).
In addition, dirty clothes are more likely to attract pests, which is another good reason to make sure they're cleaned before storing them.
If you dry clean your clothes before storage make sure to take the time to take off the plastic bags from the garments when you get them back. Leaving the bags on traps moisture inside, which can cause your clothes to smell musty with time.
Similarly, all clothes need to be completely dry before they're stored, not even still slightly damp from their recent wash, because again, the moisture will cause mildew and mold growth. (You can use my mildew stain removal guide if you do encounter this problem.)
Rule 2. Choose A Good Storage Location
There are many good places in your home for you to store clothes. The best locations are those which are cool, dry, and well ventilated.
We've already discussed how excess moisture can cause clothes to get musty or even mildewed, and excess heat can damage clothing fibers or embellishments (especially elastics) and also set in stains. You also want to avoid storage locations in direct sunlight because the sun can actually fade clothes (think about drapes that begin to bleach after a long time in the sun).
Because of extreme heat the attic may not be an ideal storage location for clothes, and if your basement is prone to flooding or excessive moisture then you most likely don't want to store your clothes there, either.
Most climate-controlled areas of your home will do. A favorite place for those who don't have much other space is under the bed (although make sure you use the right containers to hold the clothes, which I'll discuss below).
Rule 3. Choose Good Hangers For Hanging Clothing Storage
For those clothes you decide to store hanging up, make sure you use good sturdy wide hangers, not flimsy wire ones. This will help your clothes retain their proper shape and not get stretched out.
Further, hanging clothes need to be covered to keep them from getting dusty, and to deter pests. Use zippered fabric garment bags for the hanging clothes' protection.
Rule 4. Choose Good Boxes Or Containers For Folded Clothes Storage
Many of your clothes you'll want to fold and store, instead of keeping them hung up. It is important to choose the proper containers for your folded clothes storage to keep them safe, and looking their best.
Do not store your clothes in cardboard boxes. The boxes themselves attract pests who eat the cardboard, plus the acidity within the cardboard can discolor clothes. Further, you cannot tightly seal cardboard boxes, and they do not offer any protection against water damage.
Instead of cardboard I suggest plastic bin boxes or containers, or breathable sturdy fabric containers (as long as they have a lid that closes tightly). These meet all the criteria for safe storage of your clothes and are easy to find in a large variety of shapes and sizes, so you'll find the type that will fit into the space you've got.
Make sure to label your boxes with the contents inside, so you can find what you need. I suggest you label with something short, like "Boys size 6-6X" and then use a clothing inventory form (you can get one at the link) to go into more detail about what's in the container, such as 5 pairs of pants and 6 shirts, all in size 6 or 6X.
If you want to store clothes under your bed, such as when they're not in season, look for containers with good fitting tops that are long and shallow, and designed for under bed storage.
Otherwise, make sure you get containers that are uniform in size to make stacking easier.
Here are some good choices. This shows you the wide variety of shapes and sizes you can choose from.
You can also use older suitcases to store clothing as well, but if you then need to use the suitcase for travel while the clothes are still stored in there it can be a huge hassle.
Rule 5. Make Sure To Deter Pests During Storage
One of the most common problems with storing clothes is when pests invade, such as clothes moths or carpet beetles. When this happens you're left with holey clothes that are unwearable.
However, I do not recommend the old method to deter clothes moths, which was moth balls or crystals. These smell really bad, and can potentially be bad for your health since they contain insecticides.
Therefore, to deter pests it is important to follow the rules above, especially the rule to clean clothing before storage, and also to use the proper containers for holding your clothes. Doing these two things will significantly reduce the risk of pest invasions.
In addition, though, if you're concerned about moths you can add some cedar blocks or balls (such as those shown on the left) into the storage container with your clothes. The cedar oil is a moth deterrent, but for it to be effective you should be able to smell the cedar. You'll need to periodically sand down the blocks to release more of the scent. In addition, there have been some instances where the cedar blocks have, when they've been in prolonged contact with clothes, caused stains or discoloration, so you may want to loosely wrap the block with an old sheet or something similar to prevent such staining.
If you follow these five rules for clothes storage when you pull your clothes back out for the next season, or when your younger child grows into the clothes and is ready to wear the hand me downs, they'll still look (and smell) as good as when you put them in!
Make Sure To Take The Organizing Challenge!
When you're working on storing outgrown kids' clothes, or doing a seasonal clothing switch, make sure you are using all the ideas in the Outgrown & Seasonal Clothing Storage Challenge here.
via 5 Rules For Clothes Storage {To Keep Them Looking Great}