How To Declutter Hangers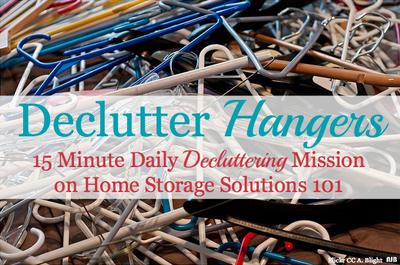 Today's mission is to declutter hangers. Here's how to do it, with tips and reminders so you don't forget something when doing the mission.
This mission is designed to be done either during the
Laundry Organization Challenge
, or one of the
Closet Organization Challenge
(there's one for adults and
for kids
).
It may be easiest for this mission to gather up all your excess hangers that are not currently being used into one pile and then you'll be able to evaluate which ones to keep versus to declutter, when you see them all together.
Prime locations to gather hangers from include all bedroom closets, coat and hall closets, and in your laundry room.
Once you see all the hangers currently not in use together you can better realize how many extra hangers you've got.
As with all decluttering missions that we do as part of the Declutter 365 missions, I'm not suggesting you get rid of all extra hangers. After all, some may break, or you may get additional clothing in the future which needs a hanger.
However, if you're rather surprised by the large amount of extra hangers you were able to gather then it is most likely time to let some of them go.
(On the flip side, if you're always searching for another hanger you don't need to declutter them, but it might mean you need to declutter some of your clothes instead. Try the declutter hanging clothes in your closet mission here.)
Prime types of hangers to declutter include those that are bent or broken, those you absolutely detest for whatever reason, extremely flimsy ones that either bend with too much weight on
them or break easily, and those where you have too many of a specific type.
For example, many people detest thin wire hangers, and some really don't like store hangers, like the kind you bring home with you from the clothing stores. Do yourself a favor and get rid of the ones you don't like to use. They'll just aggravate you every time you use one you don't like, and life's too short for that!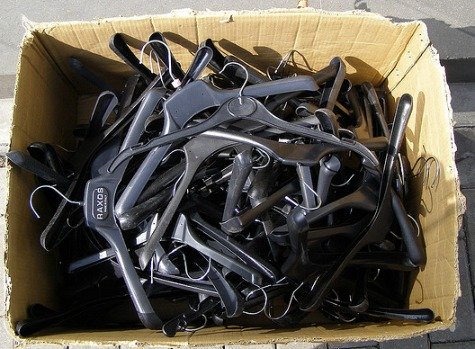 In addition, depending on the size and age of your kids, it may be time to get rid of the baby or kid sized hangers if everyone in the household has outgrown them now.
Look seriously at all the hangers you've gathered up from throughout your home and answer for yourself the question of whether it is important to you that they are uniform in size, shape, and color or not. Some people really like things uniform, and for some people it makes very little difference. Know your personality and work with it.
Make sure to keep some of each major variety that you use, including sturdy hangers for heavy coats, skirt or pants hangers, non-slip hangers for sleeveless blouses, kids hangers if needed, etc.
It may surprise you how beneficial getting rid of excess hangers can be. It will free up a lot of room in your closets so you can actually more easily fit the clothing that is hanging up on hangers, when the empty ones aren't just taking up room on the closet rod.
Below I'll discuss briefly what you can do with the hangers you've decided to get rid of from your home.