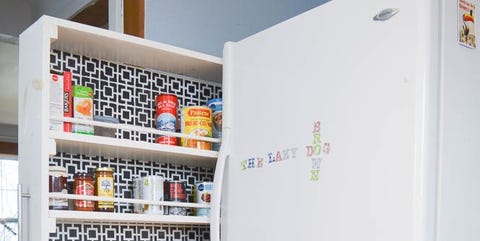 If you've struggled to keep your kitchen organized, you're not alone. The struggle is all too real, but there's hope for your biggest (and smallest) problem spots. These practical ideas really work, so you won't be overwhelmed by clutter — or veer into organization overload, where you have a box for each individual item you own. And, if you need more inspo, check out our best cabinet and pantry organization ideas.
Read more: 33 Ideas For Your Most Organized Kitchen Ever via House Beautiful
Some small appliances have all the luck. Instead of getting shoved in the back of a cupboard or left to gather dust on a bottom shelf, these small appliances get the red carpet treatment, with pull-out shelves and hidden cabinets devoted entirely to storing them in style and comfort. Ah, it's good to be a small appliance — at least if you're in one of these kitchens!
Read more: 10 Snazzy Ways to Organize and Store Small Appliances via The Kitchn
At one time or another, we've all stood in our kitchens and said, "this would work so much better if it was set up differently." More often than not, we're talking about our kitchen appliances.
How many times have you bumped into someone using the stove while you're trying to reach the fridge? Or found your cooking constantly interrupted because your stove is right next to the snack cupboard your family likes to raid everyday?
A bad appliance layout can ruin what should be one of the best and most enjoyable rooms in your house. It can also be overwhelming trying to get everything to fit in without having to sacrifice counter space or visual appeal.
We have some tricks to help when it comes to arranging kitchen appliances so that your new kitchen is the best kitchen for all situations.
Read more: ARRANGING KITCHEN APPLIANCES THE RIGHT WAY via Laurysen Kitchens