While Christmas should live in our hearts all year; it can't possibly live in our homes 24/7. Eventually comes the day when we have to take it all down. Pack it all up and store it away for another year. And it can feel like a monumental task.
All the ornaments, garlands, lights, wreaths, garlands, trees, and other decor touches that make our home so cozy and welcoming during the holidays can become a nightmare to deal with when the season is over. I begun tackling our big takedown the other day, and while I'm keeping out some of the more neutral winter elements, the majority of the "Christmas decor" will be taken down and stored before New Year's Eve. I like to make a fresh start to begin the new year, and that includes cleaning the house!
Read more: Genius Ideas for Storing & Organizing Christmas Decor via The Happy Housie
Storage solutions for Christmas ornaments, garlands, wreaths, bows, wrapping paper and other holiday decorating essentials can be simple, inexpensive and convenient. These see-and-do organizing ideas work on their own or together to store Christmas decorations efficiently.
Organize Christmas decorations in an out-of-the-way closet in a garage, basement, guest bedroom or other low-traffic space. These Christmas organizing ideas make sure you get the most storage value for your available space even if you don't have a "Christmas closet."
Read more: Christmas Storage Hacks and Organizing Solutions via Lowes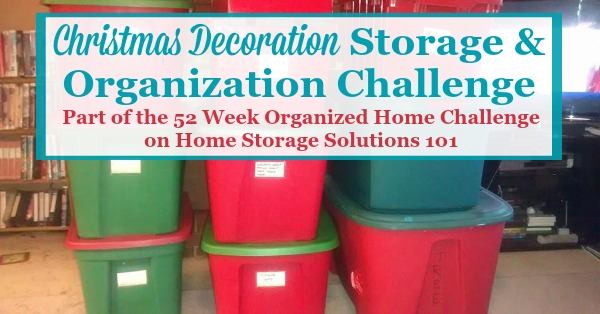 Your challenge this week is to work on Christmas decoration storage and organization so you can safely store, and then find and display the items you love and get rid of the rest.
Obviously you aren't going to store your holiday decorations until the season is over but I scheduled this challenge for a couple of weeks before Christmas because there are really two parts to it.
First, we've got some work to do now, while your favorite decorations are out, to declutter what you don't want anymore, and to gather your storage supplies for later (that will be steps 1-3 below).
Then, second, after Christmas is over there's a bit more work to do, because then it's time to store the decorations away until next year (that will be step 4 below).
Read more: Organized Home Challenge Christmas Decoration Storage & Organization via Home Storage Ssolutions